Usatii's Arrangements In Action: Moldavian School Headmasters Attend Courses In Moscow
March 13 2017 - 10:42
3417
School headmasters of the Republic of Moldova are visiting Moscow, where they will attend educational courses from 12th until 18th of March. The visit takes place within the framework of the Memorandum of Cooperation between Western Administrative Okrug and the city of Bălţi. The letter to the mayor of Bălţi Renato Usatii, signed by the head of the Department for Foreign Economic Activity and International Relations Sergey Cheremin, notes that the hosts will organize educational courses for 20 people from Bălţi and the Republic of Moldova and will also cover all travel expenses.
According to the Department of Education of the Russian capital, the guests will see how scholars use 3D glasses during lab works on physics, what are electronic lesson plans, and how headmaster certification is conducted in Moscow.
During a week course the headmasters of educational institutions in Bălţi will observe an engineering class at work, an episode of a lesson applying the "Moscow electronic school" project and a supplementary education program.
The Independent Diagnostics Center of the Education Quality Monitoring Center in Moscow will demonstrate physics laboratory experiment using 3D glasses. The delegation will also observe medical and engineering classes at work in a few schools of the capital.
Specialists from the Moscow Institute of Open Education will tell the headmasters of Moldavian schools about refresher courses for teachers and certifications of the local headmasters.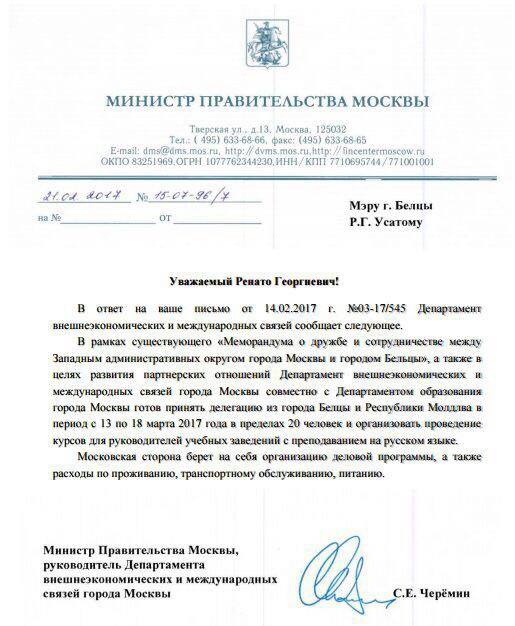 A round table meeting called "Teaching Students with Disabilities" will take place in the Moscow City Psychological-Pedagogical Center, and a seminar "Working With Gifted Students: Cooperation With Universities" will be held in the Moscow City Methodical Center.
The guests from Moldova will also get acquainted with the Technological Modernization of Education center and will participate in the Department of Education of the city of Moscow conference.
The Memorandum of Cooperation between Western Administrative Okrug and the city of Bălţi was signed last year in January. The document provides for enhancing interactions between the cities in the fields of municipal and housing and communal services management, infrastructure projects, social and youth policy, education, and culture.